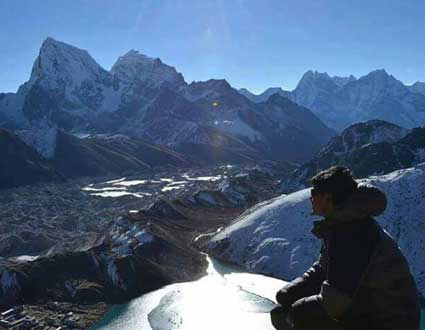 Hi! Am Subindra Adhikari & I was born on the rugged but beautiful mountains of Nepal. I am an Experienced Mountain Guide from landlocked Nepal…& I enjoy my work to the hilt…
Care to walk the trails with me?
Please Contact me if you want to hike across some of the most rugged & remote territory on earth; I am the kind of guide who can give you the trekking thrills of a lifetime. Choosing me as your trekking guide would be an exciting and adventurous experience that will live in your memories for years to come. All you have to do is just Send me an email or fill in an appointment form online. I will send you a pocket friendly quote within a week.
GET TO KNOW ME THE WAY I AM:
"Trekking & hiking is a passion with me; I belong to a place where nature envelops my very existence. I have grown up amidst nature's fresh environment, played with my friends in the lush green wilderness and now as a grown up young adult, I have walked the base of some of the world's most challenging mountains, such as Everest, Annapurna Manaslu, Ganesh Himal, and Langtang…& its become a way of life for me. I somehow believe that many of you in this materialistic world; if given the opportunity, would like to cherish the same feelings as I do" – if so, welcome to my world, won't you come on in? It's a world you can share with some of the most beautiful bird species on earth…& the flora & fauna grows wild & free. & the very smell of earth tickles your nostrils & you will not hesitate to say…WHAT A WONDERFUL WORLD!!!
PLEASE FIND TIME to check out my website & go through my portfolio, my experience, honesty & integrity in serving international tourists for the last 7 years will convince you of my practical credentials.
Even though I specialize in hiking and trekking, I have multiple experiences that include guiding you also on specialized city tours, confirming your air tickets, escorting you & planning a jungle safari program if you are interested & this also covers wild-water rafting & mounting biking on the rims of Kathmandu valley or even arranging your trip to Tibet or Bhutan. While on the trails with me; I will introduce you to some of the most delectable foods available on the mountains of Nepal. Come & visit a unique world you've probably never known before…
Destinations, that I am already confident and to guide are as follows –
1. Annapura Region
2. Everest Region
3. Langtang Region
4. Island Peak
5. Mera Peak
6. Singa Chuli
7. Ganesh Himal
8. Manasalu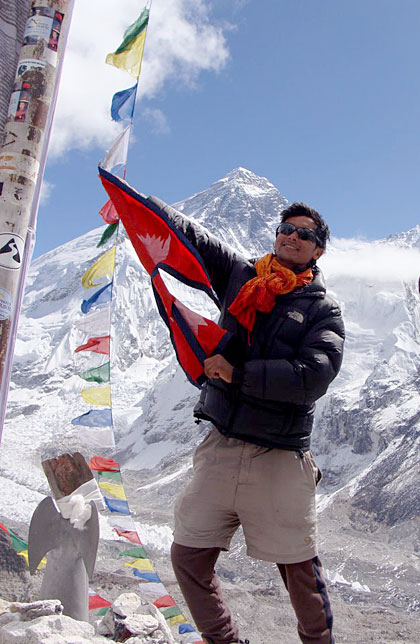 "