"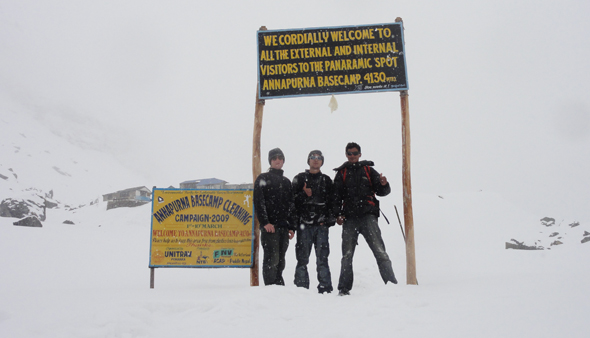 The Wonders of Trekking…
For me, Trekking & Hiking in Nepal can be holidays that test your physical abilities & inspire your emotional well being.  I was born on these cold, rugged mountains & learnt to first walk on these massive mountains from as early as 8 months. And I am still doing it till now…& I'll probably do it for as long as I live; because this is where it all began. In other words, trekkers & Hikers leave home & cross the oceans to explore the unknown; to get a feel of the wild. Indeed, from the flatlands of the terai with its warm and thriving vegetation to the icy slopes of some of the highest mountainous altitudes on earth, hikers & backpackers are bound to experience a tryst with some of the most fascinating natural landscapes ever beheld and delight in the thrills of a true spirit that comes with adventure when hiking the trails out in the wilderness.  It's a heartwarming feeling when trekking out in the Nepalese Himalaya as you camp out in the jungles under starry skies, yield to the rugged beauty of the wilderness, connect with the wonders of nature, eat and sleep under a full moon sky, sing and dance around campfires and share a meal with local folks. There couldn't be a better way to flee from the hustling and stressful irritation of everyday life in the mangled metropolises that we all live in and to rejuvenate and enjoy the elixirs that can only be found in pure nature at its very best.
I am a highly proactive guide in Nepal who offers well researched & designed adventure programs that provide opportunities for people with any grade of experience and almost any time frame that suits your conveniences. For almost a decade, I've pioneered and led numerous trips through some of the most remote territories found on the Himalayan landscape, always keeping in mind the ecological environment we move in & ensuring that our trips are carried out in the most eco-friendly way; so that others who follow will enjoy the trails we hiked on just the other day.
These tough landscapes are my livelihood & I could spot a fauna or flora from a mile; I could take you to some special spots that others may not have noticed & I can show you these towering mountains & tell you where the winds could be the most fierce; & I can do all this because I simply love what I do…there's no better way to respect the GOD that created me & these mountains than all of this. So join me on these high & wild trails & rediscover yourself in new avatars.
Subindra…when the river runs on & the world keeps turning, & the waters still flow & suns are burning, & the mountain's gone old while we are still learning…where true nature is…
<